Washington, D.C.: The Green Gem of The United States
Posted by Daryl Judy on Tuesday, June 20, 2023 at 12:18:29 PM
By Daryl Judy / June 20, 2023
Comment
Is Washington, D.C. a Green City?
Yes! And, it's one of the GREENEST CITIES in the U.S.!
Washington, D.C., the capital of the United States, is renowned for its historical significance and political prominence. However, beyond the grandeur of its iconic landmarks and institutions, Washington, D.C. stands out as one of the greenest cities in the country. Click here, or on the video below to learn more!
From its expansive tree canopies and tree-lined streets to its abundant parks and recreational opportunities, our Capital city offers a unique blend of nature and urban living. This article explores the reasons why Washington, D.C. is such a great place to live, highlighting its green spaces, outdoor activities, and the resulting strong real estate market.
What are the most beautiful, tree-lined streets in Washington, DC??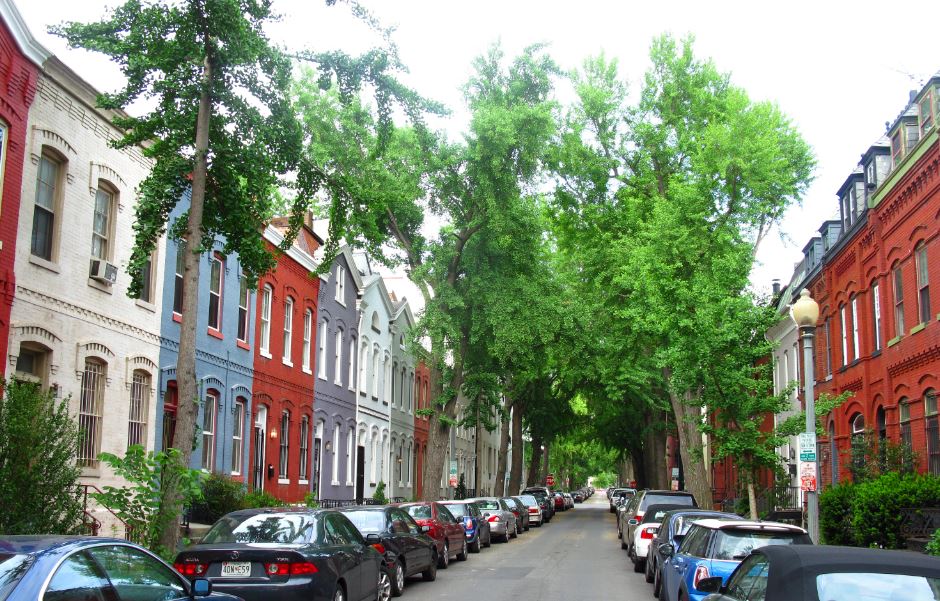 Lush Tree Canopies and Tree-Lined Streets: Washington, D.C. boasts one of the largest tree canopies among U.S. cities. According to the District Department of Transportation, approximately 36% of the city's land area is covered by tree canopy, providing shade, improving air quality, and enhancing the overall aesthetic appeal. The city's commitment to maintaining and expanding this canopy creates a pleasant and environmentally friendly atmosphere for its residents.
Additionally, many of the city's streets are adorned with magnificent tree-lined pathways, creating a picturesque urban landscape that is both inviting and refreshing. These green corridors contribute to the overall livability of the city, making it a desirable place to call home. Some of the most beautiful streets in D.C. are Swann St NW (Dupont Circle, see photo above), M St NW, Q St NW (Logan Circle), and East Capitol Street NE.
What are the best parks to visit in Washington, D.C.?
Plentiful Parks, Zoos, and Dog Parks: Washington, D.C. takes pride in its extensive park system, offering residents and visitors numerous opportunities to enjoy nature and outdoor activities. The National Mall, a sprawling green expanse stretching from the
U.S. Capitol to the Lincoln Memorial, serves as a focal point for recreational activities, gatherings, and events
In addition to the National Mall, the city boasts an array of smaller parks, each with its own unique charm and amenities. Rock Creek Park, for instance, covers over 1,700 acres and provides residents with a serene natural retreat in the heart of the city. Furthermore, Washington, D.C. houses the Smithsonian's National Zoo, a popular attraction that allows visitors to explore and appreciate wildlife.
Yes! Washington, D.C. has a lot of dog parks!!
For pet owners, the city offers multiple dog parks, providing designated spaces for dogs to exercise and socialize. These green spaces contribute to the city's pet-friendly environment and foster a sense of community among pet owners.
Places to Picnic and Enjoy the Outdoors: Washington, D.C.'s abundant green spaces offer ample opportunities for picnicking and outdoor recreation. Residents can enjoy a leisurely picnic in one of the city's many parks, appreciating the beauty of the surrounding landscape. Popular picnic spots include the Tidal Basin, Meridian Hill Park (see photo above), and Dupont Circle, among others. Other parks not to miss in the Washington, D.C. area the National Arboretum, Bartholdi Park, Hains Point, Lincoln Park, and Constitution Gardens.
Looking for a picnic with a waterfront backdrop?
Washington, D.C. has various urban waterfront spaces with shopping, eateries,
and much more in nearby Maryland and Virginia!
The city's vibrant waterfront areas, such as the Georgetown Waterfront Park (see photo below), The Wharf, and The Yards Park, provide picturesque settings for outdoor gatherings, recreational activities, and enjoying stunning views of the Potomac River. Other popular waterfronts nearby the D.C. Metro Area like that of Baltimore City, MD, the National Harbor, MD, and the Old Town Alexandria around the Torpedo Factory Art Center in VA, are just a short trip away.
Sports and Fitness Culture: Washington, D.C. embraces a thriving sports and fitness culture that attracts both active participants and passionate spectators. The city offers a wide range of opportunities for residents to engage in physical activities, such as jogging, biking, and hiking along the city's extensive trail network, including the famous C&O Canal Towpath.
Additionally, Washington, D.C. is home to various professional sports teams, including the Washington Nationals (MLB), Washington Wizards (NBA), and Washington Football Team (NFL). The presence of these teams, along with other sporting events and recreational facilities, creates a vibrant atmosphere that appeals to sports enthusiasts and contributes to the city's strong real estate market.
Washington, D.C. stands out as a remarkable place to live due to its commitment to preserving green spaces, its ample parks, and its vibrant social atmosphere be it gathering with friends and family or exercising in a plethora of manners in our Nation's Capital.
To learn more about What it is like to live in Washington DC and the Capital Region, follow Daryl Judy on his Youtube Channel and follow him on social media @daryljudy. You might find these videos about reasons people love living in the Nation's Capital enjoyable:
🏢 Daryl Judy – Associate Broker, Washington Fine Properties
🌐 daryljudyrealestate.com
👇Follow Me on Social Media: